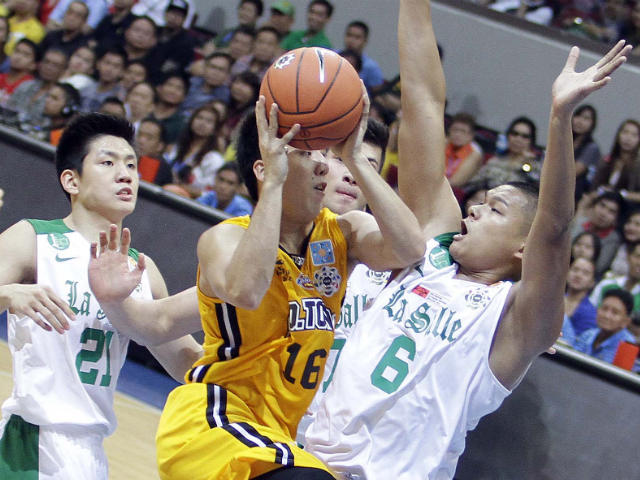 The University of Santo Tomas emerged on top in an ugly 63-58 overtime win against the De La Salle Green Archers, to begin their campaign in the UAAP Season 76 men's basketball tournament, Saturday, at the Mall of Asia Arena.
The Archers cut an 11-point lead to three with less than three minutes remaining after a Jeron Teng and-one play. UST continued to hold on to a slim advantage though, as La Salle struggled to gain defensive rebounds late with turnovers continuing to haunt the Taft-based squad.
An LA Revilla drive cut the lead to one with two minutes left, 50-49, as the DLSU point guard completed a steal at the other end. The Archers could not capitalize though, as Jeron Teng committed an offensive foul in the paint.
A Paolo Pe miss gave La Salle another chance to get the go-ahead basket, but Almond Vosotros got nothing via a turnaround. Pe grabbed the rebound and fished Jeron Teng's fifth foul in the process. The UST big man trooped to the line with 52.2 seconds remaining, and split for a two-point lead, 51-49. Vosotros missed a three on La Salle's next possession, but Jason Perkins swiped an offensive board for another try.
After a timeout, LA Revilla found Perkins for a jumper, tying the game at 51-all with 11 seconds remaining.
It was then UST's turn for a quick break, setting up for a game-winner. Teng went for a tough turnaround jumper, but his shot sailed long and bounced off the rim to send the game into overtime.
Karim Abdul started the scoring in OT with a power move inside at the 3:42 mark. After a Thomas Torres missed trey, La Salle sent Abdul to the line with 2:59 to go. The UST center knocked down both, giving UST a 55-51 lead.
The Archers fed Norbert Torres down low, but he missed from point blank. The Archers sent Abdul to the line anew where he split, for a five-point spread.
LA Revilla countered with an open drive on the left, but Jeric Teng knocked down a jumper from the baseline to increase UST's lead. Vosotros found a way to put up a long one though, and he connected to cut the lead to two, 58-56.
After an Aljon Mariano miss at the other end, Vosotros went for a stop-and-pop, but his try was short. With 33 seconds to go, Jeric Teng sank two more, as the Tigers established a 60-56 lead.
The Archers came up with a quick basket after a timeout, as Perkins went for a drive with 28 seconds remaining to cut the lead to two. After UST called for time to set-up, La Salle opted to foul and send Aljon Mariano to the line with 22.9 seconds to go. The forward hit both, as DLSU stared at a four-point lead with no timeouts left.
Pressure by Clark Bautista led to a Revilla turnover with 15 seconds remaining, as Gabby Reyes fouled Mariano to stop the clock. Mariano split from the line, icing the win for the Growling Tigers.
Opening day jitters were evident at the start of the game, as both teams launched hurried shots for the first three minutes. The two sides were prone to scoring in spurts, as an Almond Vosotros trey spurred La Salle to a 7-2 lead, which UST re-took after lay-up lines ran by Clark Bautista and Jeric Teng, 8-7. Neither side could seize control in a turnover-scarred quarter, until a late putback by Jeron Teng nudged La Salle ahead, 12-10, after the first period.
More turnovers and poor execution threatened to turn the second into another forgettable quarter as the tally crawled, 14-14. Coming out of a UST timeout, Arnold Van Opstal briefly broke the deadlock with split charities, but Abdul began to assert himself on the block. Jeric Teng then turned yet another Archers turnover into a bucket, forcing La Salle to take a timeout of their own with under five minutes remaining.
But there was no relief in sight for La Salle as they continued to miss, even from point-blank range. Meanwhile, Jeric Teng and Abdul continued to wax hot from the field. The pair scored 12 among 14 unanswered markers for UST, 28-15, with a minute to play. It was only then that the Archers awoke, as twin drives by Jason Perkins and a buzzer-beating lay-up by Norbert Torres trimmed the lead to 28-20 at halftime.
The Tigers shot 13-of-33 (39.3 percent) from the field after two quarters, while La Salle was held to a miserable 7-of-34 (20.6 percent). From the line, the Archers were 5-of-12 (41.7 percent), while UST made both of their charity tries.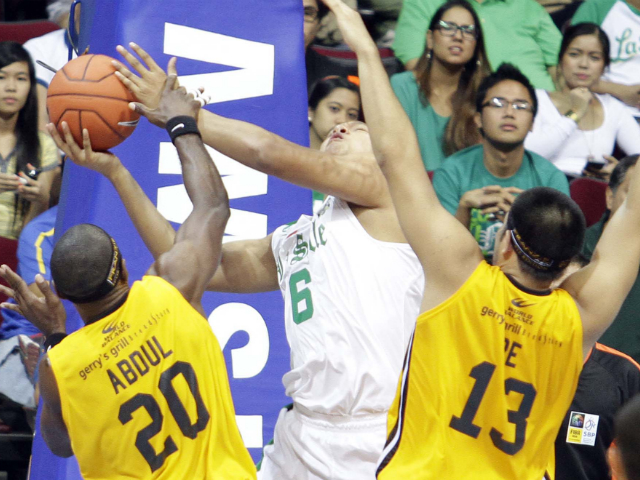 La Salle looked like they would turn things around in the third as Vosotros and Jeron Teng scored at the rim. The older Teng countered with a driving and-one, and the tally stayed still for a while. Vosotros struggled from deep while UST was forced into difficult shots, 33-26.
The well was dry even as both teams reached the penalty situation with under four minutes to play. After trading misses from the stripe, the game was bereft of any significant scoring until Thomas Torres nailed a triple with two minutes and change to play. The make triggered a short exchange with the Archers coming out as slight winners, using a pair of baseline jumpers from Perkins to trail after three quarters, 40-34.
Early in fourth, it seemed like the game would be played in bursts. Aljon Mariano, one of the team's top scorers last year, laid in his first field goal the start of the fourth quarter to embolden UST. The Tigers exploited the lane for a little 8-3 run to open a double-digit gap, 48-37.
Moments later, the Archers returned the favor as Jeron Teng decided to put the team on his shoulders. The sophomore did damage inside and combined with another triple with Thomas Torres as La Salle went on a 10-2 run. In contrast, the Tigers had difficulty finding their comfort zone on offense and had to confront a 50-47 lead with under four minutes to play. - RAF, GMA News
The scores:
UST 63 - Teng 23, Abdul 17, Bautista 6, Mariano 5, Ferrer 5, Pe 3, Hainga 2, Daquioag 2, Lo 0
DLSU 58 - Vosotros 13, Perkins 13, Teng 10, T. Torres 7, N. Torres 6, Reyes 4, Revilla 4, Van Opstal 1, Tampus 0 , Bolick 0
Quarter scoring: 10-12, 28-20, 40-34, 51-51, 63-58
Admin




Posts

: 84


Join date

: 2013-06-08




---
Permissions in this forum:
You
cannot
reply to topics in this forum