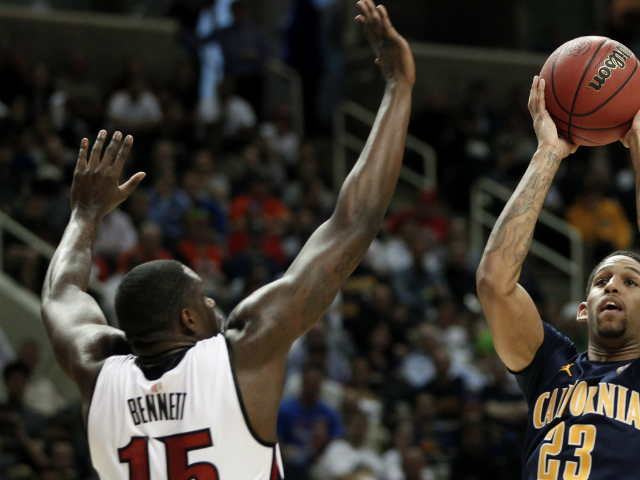 Tyler Jamieson, senior NBA draft analyst for The Sports Xchange, looks at the top-10 prospects at the center position, for the upcoming 2013 NBA Draft. Leading the way is the 20-year-old Anthony Bennett, out of UNLV.
Position rank (overall rank)/Name/School/Class
1. Anthony Bennett, PF, UNLV, Fr.
Overview:
 The 20-year-old Canadian out of UNLV only played one season in Las Vegas, but he made it a good one. The bruising power forward posted 16.1 points and 8.1 rebounds per game and was a dominant force in the Mountain West Conference. Bennett suffered a rotator cuff injury to his left shoulder at the end of the season and has since undergone surgery. He will not work out for anyone before the draft, but scouts say that shouldn't affect his draft stock.
Analysis:
 Considered undersized at 6-feet-7, Bennett makes up for his lack of height with a long 7'1" wingspan that he uses to his advantage offensively. After just his freshman season, Bennett is already one of the top scoring big men to enter the draft. He's able to finish strong at the rim with dunks and power moves against tall athletic players, has a nice touch in the paint and can shoot all the way to the college three-point line.
2 . Tony Mitchell, PF, North Texas, So.
Overview:
 After starting off his career with a nice freshman season in which he averaged close to 15 points and just over 10 rebounds per game, Mitchell clearly took a step back as a sophomore with his averages dipping to 13 points and 8.5 rebounds. North Texas struggled under a new coach last season and it clearly affected Mitchell individually, and scouts are concerned about the decline in production.
Analysis: 
Mitchell should still find himself landing in the first round - at 6-9 and close to 240 pounds with long arms, he has the size and athleticism NBA personnel love at the power forward position. He'll be drafted on his ability to block shots and rebound, but if Mitchell can show the promise of his freshman season offensively he may turn out to be a somewhat hidden gem.
3. C.J. Leslie, PF, North Carolina St., Jr.
Overview: 
The physically gifted Leslie leaves NC State having averaged double figures in points in each of his three seasons. However, Leslie and the Wolfpack failed to live up to expectations last season. While Leslie's point totals increased from 14.7 to 15.1 per game, he had personally hoped for better production.
Analysis: 
The lanky 6-9 Leslie's greatest asset might be that he can play both small forward and power forward, but at 210 pounds he'll need to bulk up a bit to play power forward in the NBA. Offensively, Leslie is at his best when facing up in the low post or just off the block, and he has a quick first step that guys his size in college couldn't keep up with. Defensively, a major concern is being able to deal with the strength of NBA big men on the block.
4. Jackie Carmichael, PF, Illinois St., Sr.
Overview: 
The 6-9, 240-pound senior started to make waves after a breakout junior season. Although the Redbirds didn't meet expectations last season, Carmichael continued to improve with 17.4 points and 9.3 rebounds per game as a senior.
Analysis: 
Carmichael's body is NBA ready and he is widely considered one of the best rebounders in this year's draft, having averaged just under 10 boards per game the past two seasons. Offensively, Carmichael's game is simple - he uses his size and strength to fight and bully for position in the post and looks to score from as close as possible.
5. Livio Jean-Charles, PF, ASVEL Villeubanne 1993 (France)
Overview: 
Like Dennis Schroeder, Jean-Charles also enjoyed a huge few days at the Nike Hoop Summit. At 6-9 and 220 pounds with a long wingspan, Jean-Charles is much like many other international prospects in this year' draft - athletic.
Analysis: 
The athletic Jean-Charles has shown the ability to play both small forward and power forward, and with his performance in Portland - he had a huge game torching the US Junior National Team for 27 points and 13 rebounds - is a hot name rising up draft boards. Not overly spectacular in any area, Jean-Charles appears to be consistently solid in just about all areas offensively and defensively.
6. Kenny Kadji, PF, Miami, Sr.
Overview:
 Kadji followed a breakout junior season with another solid campaign in 2012-13, averaging 12.9 points and 6.8 rebounds per game for ACC tournament champion Miami. At 6-10 and 240 pounds with a deft shooting touch out to the college three-point line, Kadji possess the size and skills many NBA coaches seek in a big man who can space the floor.
Analysis:
 At 25 years old, Kadji doesn't possess the potential a lot of the younger prospects in the draft do, but he is a rock solid potential second-rounder who can find a home with a team looking for a guy who can space the floor with his shooting in pick-and-roll and pick-and-pop situations. While he's not your traditional banger down low, Kadji's skillset is still one NBA coaches appreciate and are willing to give a chance.
7. Grant Jerrett, PF, Arizona, Fr.
Overview: 
When you look at the Arizona freshman's 5.2 points and 3.6 rebounds per game you wonder why he's not sticking around in Tucson. At this point in his career, Jerrett is basically a 6-10 jump shooting power forward.
Analysis:
 His freshman season wasn't much to get excited about, but to be fair Jerrett has impressed people with his shooting in the pre-draft workouts. While staying at Arizona probably would have been a better move, at just 19 years old Jerrett is giving himself a shot at the NBA with his jump shot.
8. Andre Roberson, PF, Colorado, Jr.
Overview:
 Undersized for the power forward spot at 6-7, what Roberson lacks in height he makes up for with energy and a nose for being around the ball. His 10.9-point scoring average isn't going to scare too many people, but his 11.2 rebounds per game last season will get people to notice him.
Analysis:
 Just a junior, Roberson could've afforded himself the luxury of giving scouts another year of development offensively to look at, but perhaps he feels he has shown enough to give himself a shot at making a team. Offensively, he's a good athlete and does have a knack for finishing around the basket despite his lack of height, but he's still very raw outside the low block area. Rebounding and hustle plays are where Roberson makes his mark.
9. Erik Murphy, PF, Florida, Sr.
Overview:
 Murphy, a four-year Gator, increased his points, assists and rebounds every year on campus in Gainesville. His senior line of 12.2 points and 5.5 rebounds per game is highlighted by the fact Murphy is a big man who can space the floor with his shooting.
Analysis:
 Not the fleetest of foot or the best athlete in the world, Murphy had to find other ways to contribute in the athletic SEC, and he did that with his shooting. Athletically, he'll have a hard time staying with NBA athletes and will struggle in the post, but if Murphy is able to knock down shots and space the floor he'll have coaches intrigued.
10. Trevor Mbakwe, PF, Minnesota, Sr.
Overview: 
Granted a rare sixth year of eligibility, the 24-year-old Mbakwe had quite the college career on and off the court. Originally starting his career at Marquette and finishing it in Minnesota, in between the 6-8, 240-pounder was hit with an assault charge from a female at Miami Dade Junior College. On the court, Mbakwe has returned from two knee surgeries, the latest being an ACL tear in the 2011-2012 season. Once a double threat in points and rebounds, this past year he averaged 10 points and 8.7 rebounds.
Analysis: 
Along with his off-court issues, a big concern with Mbakwe will be his health and whether his knees hold up. Offensively, he's an efficient scorer who is capable of scoring around the basket due to his long arms. However, he lacks fundamentals in the post and his jump shot doesn't present a threat at the college level, let alone the NBA. If Mbakwe can stay healthy and show he's capable of playing high-level defense and rebound the ball, he could give himself a chance somewhere. 
-
Admin




Posts

: 84


Join date

: 2013-06-08




---
Permissions in this forum:
You
cannot
reply to topics in this forum