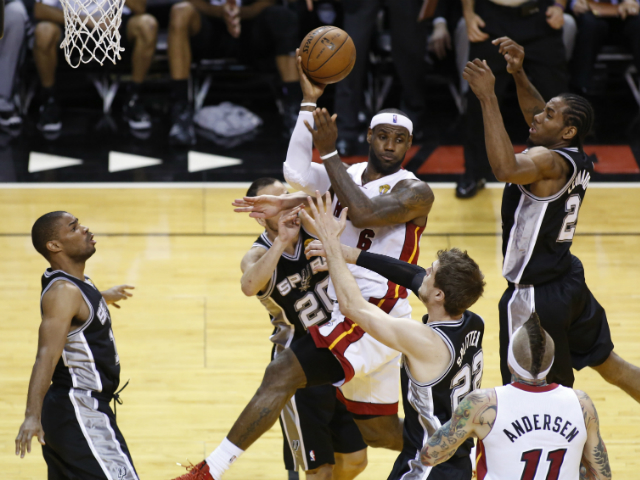 (Updated 11:51am)
Not one. But two, so far.
LeBron James connected from all over the court, and made clutch baskets in the fourth quarter, to claim game seven of the 2013 NBA Finals against the San Antonio Spurs, 95-88, and repeat as NBA Champions, Thursday (Friday, PHL time) at the American Airlines Arena in Miami.
With the defending champions up by two, Tim Duncan got two close-in shots but missed both, 46.9 seconds left in the game. Off a timeout, LeBron James was given the space and he dutifully canned the jumper, for a two-possession lead, 27.9 seconds left, 92-88.
In desperate need of a score, Manu Ginobili ran baseline but got tangled up, his pass getting picked off by James. Sent to the line, the reigning MVP made both charities, closing this one out.  
James finished with 37 big points on 12-of-23 shooting from the field, including a 5-of-10 clip from downtown. He also had 12 rebounds, four assists and two steals, playing all but three minutes of the game, and got the Finals MVP trophy anew.
Dwyane Wade shook off knee trouble for a double-double of 23 points and 10 rebounds, while Shane Battier was a key figure off the bench, going 6-of-8 on three-pointers for 18 points. Mario Chalmers also contributed 14 markers.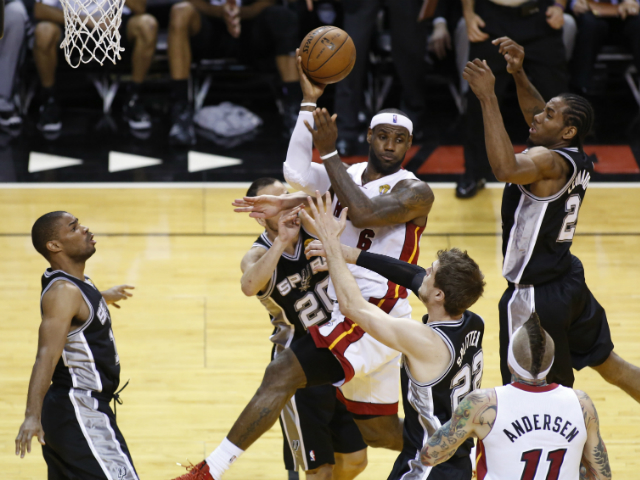 LeBron James (C) passes out of the swarm of Spurs defenders.
Joe Skipper/REUTERS
Tony Parker and LeBron James scored the first two points for their respective teams, but it was all Spurs after that, as they unleashed a 9-2 run, built on back-to-back hits by Tim Duncan, to go up 11-4, 7:42 into quarter one.
However, the lead didn't last the period, as the Heat reserves stepped up, with twin Shane Battier triples sandwiching a put-back by Shane Battier, to arm the defending champions with an 18-16 lead after 12 minutes.
Early in the second, Battier buried yet another triple, his third of the game, for a 21-16 Heat lead. In response, Parker took over, scoring or assisting on the Spurs' next 11 markers, including the and-one by Duncan that took Chris Bosh's third foul and equalized the game, 7:46 left in the second, 27-all.
An and-one play, followed by a more conventional three-pointer by James put Miami ahead, but a heave by Gary Neal helped stopped the bleeding, though James made another long-range connection for a 40-36 tally, 2:43.
The Spurs forged another deadlock via Danny Green charities and a Duncan lay-in, and then Manu Ginobili got to the line for two freebies and a slim San Antonio lead, 42-40. However, Wade and James were determined to give the Heat the lead at the half, scoring the next six of Miami for a 46-44 tally.
The Heat shot 43.2 percent by the half, and held the Spurs to a 35.0 clip. San Antonio had just six turnovers, but the Heat still got 10 markers off them. The road team though boasted of a 15-3 advantage in free throw attempts.
James waxed hot from downtown in the third, canning three triples to put the Heat up 62-57, but Boris Diaw led a Spurs rally, nailing his three-pointer and then finding Duncan for a go-ahead lay-in, 65-64, 2:40 left in the third.
Ginobili charities added to their buffer, 67-64, but it was all about the Heat's three-point shooting anew, as Battier made his fourth of the game, and Chalmers' heave kept the Heat on top, 72-71, heading into the fourth.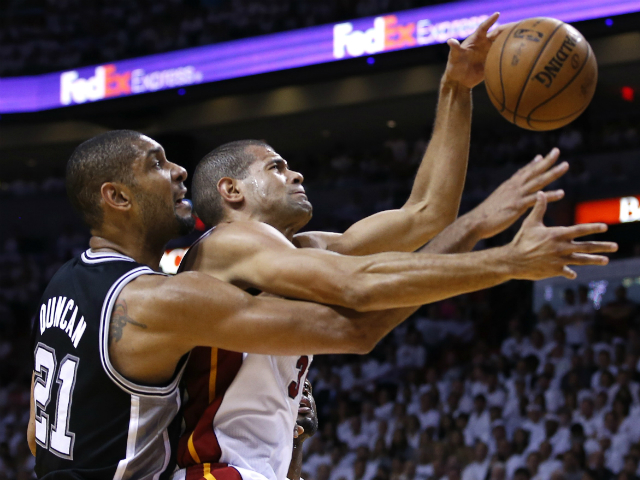 Tim Duncan (L) tries to snatch a rebound from the Heat's x-factor, Shane Battier.
Mike Segar/REUTERS
Battier continued to rain from downtown, making his fifth triple of the game, but the Spurs continued to stick around, getting momentum-breakers from Kawhi Leonard and Duncan, 77-75, Heat still up, 8:37 left.
Bad passes by Manu Ginobili hampered the Spurs, as they allowed the Heat to build a six-point advantage, 83-77, under half a quarter left. After a bad missed three-pointer by Chris Bosh though, Duncan made some progress at the line, with two freebies. James' pull-up seemingly had the Heat in a commanding position, but a Ginobili three halved Miami's advantage, 85-82.
The Spurs got a huge chance on an offensive carom by Duncan, but his kick-out got snatched by Chalmers, leading to Battier's sixth triple of the game. Duncan though negated that on the next play, with an and-one off Bosh's fifth foul, 3:11 left.
A big-time triple by Kawhi Leonard got the Spurs within two, 90-88, with exactly two minutes left. Off a foul, Chalmers missed two charities, but Leonard was unable to make it two triples in a row.
Tim Duncan had 24 points and 12 rebounds, along with four steals in the loss, while Kawhi Leonard also produced a double-double of 19 points and 16 rebounds. Manu Ginobili and Tony Parker combined for 28 points, and nine assists, though they turned it over six times. 
The Heat shot 43.9 percent from the field and held their foes to a 37.8 percent clip. Miami also doubled-up on three-pointers, making 12 on 32 tries, versus San Antonio's 6-of-19 line
Admin




Posts

: 84


Join date

: 2013-06-08




---
Permissions in this forum:
You
cannot
reply to topics in this forum