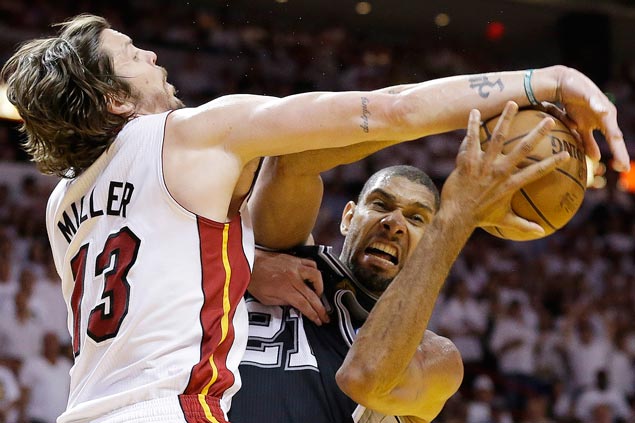 MIAMI — Tim Duncan was delivering a vintage performance, and the San Antonio Spurs were streaking to the franchise's fifth championship.
Then the 37-year-old forward ran out of gas, and the Spurs collapsed down the stretch like they so rarely have before.
Duncan had 30 points and 14 rebounds in the first three quarters, but was scoreless and grabbed just three boards in the fourth quarter and overtime of San Antonio's 103-100 overtime loss to the Miami Heat in Game Six of the NBA Finals on Tuesday night (Wednesday, Manila time).
The Spurs led by 10 points at the start of the fourth quarter and by five with 28 seconds to play. But Duncan missed all five of his shots in the fourth quarter and overtime and Ray Allen hit a three-pointer with 5.2 seconds to play in regulation that kept the defending champions alive.
For a team that has been so very good and very precise in the biggest of moments over the years, coughing up two such enormous advantages in the final minute of regulation and let them slip away was almost unfathomable.
"We were in a great spot," Manu Ginobili said. "We just gave them another chance and it hurts. It's one of those moments where you're going to be thinking about what we could've done better in those last possessions, so many times, all night long, till the next game. It's terrible."
Game Seven is on Thursday night in Miami.
Behind an incredible first three quarters from Duncan, the Spurs led 75-65 heading into the fourth quarter.
That's when LeBron James, who had been so quiet for so much of the game, finally made his move. James missed nine of his first 12 shots and was so frustrated by the Spurs' defense that he flung his trademark headband away. He proceeded to scored 16 points in the fourth quarter to stun the Spurs.
"Obviously it's a tough loss," Parker said. "We had a great opportunity to finish it, but that's basketball. Now we can show what we're made of and have a great opportunity. We can't forget that we have another opportunity on Thursday to win a championship."
The Heat led 89-86 with 90 seconds to go, but Tony Parker hit a step-back three-pointer over James and then scored on a twisting drive to the bucket for a 91-89 lead, an advantage that swelled to 94-89 on two free throws from Ginobili with 28 seconds left.
But James hit a three-pointer with 20 seconds to go that made the score 94-92. Kawhi Leonard then missed a big free throw and Allen, the NBA's career leader in three-point shooting, somehow got open in the corner for the game-tying shot.
The Spurs had a chance to go ahead in the closing seconds of overtime, but Ginobili's drive to the bucket was thwarted and Allen hit two free throws.
"That last play down the stretch there, it can go either way," Duncan said. "We obviously believe it was a foul going down the middle. We get two free throws and we're talking about something different here, if that happens."
In a game as thrilling and back-and-forth as this one, the referees weren't going to let a whistle decide it, so James did. He scored on a layup in overtime for a 101-100 lead, Allen added two more free throws and Chris Bosh blocked Danny Green's three-pointer at the buzzer to force a Game Seven.
"It is what it is," Duncan said. "It's a one-game series now. I don't know what happened in the fourth and overtime, just the opportunities weren't there. I did have some opportunities and just missed shots. Whatever you want to call it, just a disappointing loss."
Parker had 19 points and eight assists, but was just 6-for-23 from the floor and Green went 1-for-7 from the floor after breaking the finals record for three-pointers in the first five games. And after a superb performance in their Game Five win in San Antonio, Ginobili had just nine points and eight turnovers.
"I have no clue how we're going to be re-energized. I'm devastated," Ginobili said. "But we have to. There's no Game Eight afterward. We're going to have to play our best game. ... There's no secret recipe for bouncing back."
Duncan played 44 minutes, but coach Gregg Popovich insisted fatigue didn't play a role. The coach shrugged off the tough collapse in an epic game, and said they'll be ready for Game Seven.
"It was a hell of a game," Popovich said. "It was an overtime game. It's a game of mistakes. And they ended up on the winning end."
Admin




Posts

: 159


Join date

: 2013-06-10


Age

: 42





Similar topics
---
Permissions in this forum:
You
cannot
reply to topics in this forum